General Practice
Commercial Law/Litigation
Whether your business is small or large, you may find the need for legal representation on matters for which you have no insurance policy. In that case, you will appreciate the big-firm experience and small-firm atmosphere of the law offices of Gina Calogero, one of New Jersey's most affable business litigation lawyers. Here you will find value billing for all your needs, including starting your business, negotiating lease agreements, filing construction liens, defending or pursuing breach of contract claims, litigation in State and Federal Court, collection, arbitration (AAA and private), and sale of business assets. We have represented local retail, construction and services businesses and professionals throughout northern New Jersey in our capacity as real estate attorneys in New Jersey.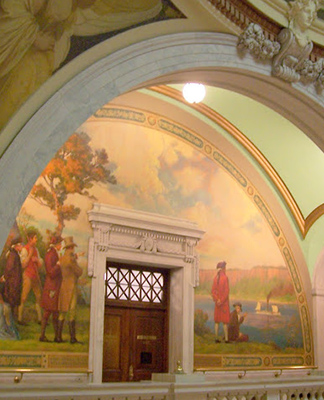 Defamation: Slander and Libel
What damage can a bad word do to your reputation, your marriage, your career? William Shakespeare said it best:
"Good name in man and woman, dear my lord,
Is the immediate jewel of their souls:
Who steals my purse steals trash; 'tis something, nothing;
'Twas mine, 'tis his, and has been slave to thousands;
But he that filches from me my good name
Robs me of that which not enriches him
And makes me poor indeed."
William Shakespeare, Othello, Act 3 scene 3
Gina Calogero has extensive experience in litigating defamation cases. A reported precedent-setting Appellate Division decision is often cited; what the opinion does not say is that the case settled in favor of Calogero's client a few weeks before the decision was announced! See Donato v. Moldow, 374 N. J. Super. 475 (App. Div. 2004).
If you believe someone has taken the "jewel of your soul", you may have a remedy. Come in for a consultation and find out.
Real Estate: Sales and Purchases
Are you selling or buying a commercial property, a house, condominium or a cooperative? You will find the personal touch at the law offices of Gina Calogero, where you and your real estate agent will be informed of every step of the transaction and all your questions patiently addressed.
Did you know that in New Jersey, a broker-prepared real estate contract will become binding at the end of a three-day attorney review period? Did you know that many form contracts prepared by real estate agents lack essential terms to protect your rights? Don't let your time run out – fax your signed real estate contract to Gina at 201-261-7978 and you will get prompt attention. When dealing with a real estate deal, you want to deal with a real estate lawyer from New Jersey who is familiar with all of the ins and outs of New Jersey real estate law.